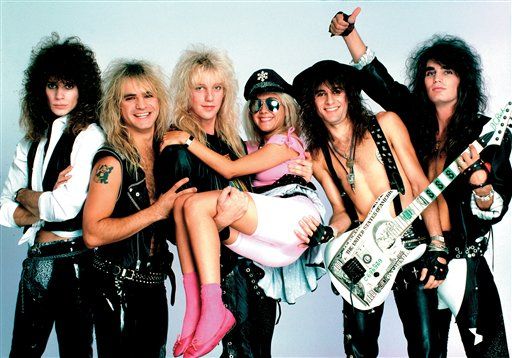 RIP Jani Lane
Earlier this week, SF Weekly blog
Dad Rock
featured a piece about author Ryan Foley's recent indulgence in the greatest sub genre of rock the world has ever seen. Now most people will argue that fact with me, as I'd say 80-90% or music lovers despise the world of 80's Hair Metal while we here at
MTH
really love it. Foley acquaints the soaring vocals and guitars of
Skid Row
with his thoughts about Siberia and exile from everyday life as he seemingly, "jumps off into the void." Now when most people think about hair metal they think of the hair, the lavish parties, booze, and ballads and Foley does the same but I have to question this ideology. Hair metal wasn't all about swooning chicks and writing songs about breaking up with girls; these guys ROCKED and that's the aspect that most people will overlook. People are quick to say they hate glam rockers like
Cinderella
,
Poison
, and
Warrant
because it's too soft or just lame but I challenge that idea.
(1989)
(1991)
Everyday I challenge MTH readers to see the heaviest side of all music genres. Heaviness doesn't just live in drop-D tuning and screaming vocals; it lives in the hearts of musicians everywhere. From
Mersey-beat
to Zepplin to Crüe to
AIC
to Seether to
Justice
to Munchi, if you look closely you will find the heaviness (sometimes it's easier than others). It is my mission to show everyone the heavy side of music but pointing out that heaviness is relative and we shouldn't just write off a whole sub-genre because they use too much hairspray. Dad Rock showcased the monster ballads that most of these glam bands are remembered for so I'm using this post to refute with a few heavy ass tracks from the same bands and maybe one or two extras for you.
(1985)
(1986)